Posts for tag: tooth loss
By James Hutson, DDS, PC
May 12, 2018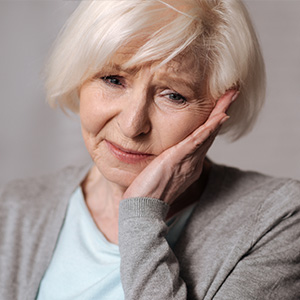 Tooth loss is a problem that affects many seniors—and since May is Older Americans Month, this is a good time to talk about it. Did you know that more than a quarter of adults over age 75 have lost all of their natural teeth? This not only affects their quality of life, but poses a significant health risk.
According to a study in The Journal of Prosthodontics, significant tooth loss is associated with increased risk for malnutrition—and also for obesity. If this seems like a contradiction, consider that when you have few or no teeth, it's much easier to eat soft, starchy foods of little nutritional value than it is to eat nutritious fresh fruits and vegetables.
That's just one reason why it's important to replace missing teeth as soon as possible. There are several ways to replace a full set of missing teeth including removable dentures, overdentures, and fixed dentures.
Removable dentures are the classic "false teeth" that you put in during the day and take out at night. Dentures have come a long way in terms of how convincing they look as replacement teeth, but they still have some disadvantages: For one thing, they take some getting used to—particularly while eating. Also, wearing removable dentures can slowly wear away the bone that they rest on. As that bone gradually shrinks over time, the dentures cease to fit well and require periodic adjustment (re-lining).
Overdentures are removable dentures that hook onto a few strategically placed dental implants, which are small titanium posts placed in the bone beneath your gums. Strong and secure, implants prevent the denture from slipping when you wear it. Implants also slow the rate of bone loss mentioned above, which should allow the denture to fit better over a longer period of time. But overdentures, too, are not meant to be worn all of the time.
Fixed dentures are designed to stay in your mouth all the time, and are the closest thing to having your natural teeth back. An entire row of fixed (non-removable) replacement teeth can usually be held in place by 4-6 dental implants. Dental implant surgery is an in-office procedure performed with the type of anesthesia that's right for you. After implants have been placed and have integrated with your jaw bone—generally a period of a few months—you can enjoy all of your favorite foods again without worry or embarrassment.
If you would like more information about tooth-replacement options, please contact us or schedule an appointment for a consultation.
By James Hutson, DDS, PC
April 20, 2017
Find out why missing teeth need to be replaced as soon as possible.
While a gap in your smile might not seem like the biggest problem it's all the things you cannot see that could pose further risk to your oral health. Our Marietta, GA, cosmetic dentist Dr. James Hutson is here to provide a little information about what untreated tooth loss can do to your oral health and what treatment options you have.
What problems can tooth loss cause?
Tooth loss can happen for a variety of reasons from decay and gum disease to traumatic injuries. You may be missing a single tooth or multiple teeth. Once you lose a tooth, there are certain changes that begin to take place in your mouth. Obviously, more severe changes will occur if you leave your tooth loss untreated for a longer period of time.
Now that there is a gap in your smile the rest of your teeth will begin to shift into that open space to fill the spot. As a result, your teeth will become misaligned or even crooked. Having to also need braces on top of replacing a missing tooth can be frustrating, to say the least. Sadly, this isn't the only issue those with tooth loss will face.
The jawbone needs stimulation and it gets it from all of your teeth's roots. Once a tooth is missing the bone is no longer getting stimulation from that tooth, which causes the bone to breakdown and deteriorate. The longer you ignore this issue the more significant your bone loss will get.
As you may be able to imagine, at this point, the jawbone has started to deteriorate and affect the shape of your face. The chin recedes and skin sags and cheeks cave in.
How do I prevent this from happening?
We can probably agree that no one wants this to happen, and luckily it can be stopped if you get the proper care right away. Our Marietta, GA, dentist is here to make sure that you get the treatment you need to replace all of your missing teeth. Whether you are looking for an inexpensive option like dentures to replace your teeth quickly or you want a restoration like dental implants, which are as close as you can get to natural teeth, we have the answers you are looking for to fit anyone's needs and budget.
Prevent these issues from ruining your oral health for life. Turn to the Marietta, GA, family dental experts to give you back a beautiful restoration and protect your smile. Call us to schedule your consultation.