Posts for tag: missing teeth
By James Hutson, DDS, PC
January 14, 2019
Could this tooth replacement give you back the smile you once loved?
Tooth loss is a serious problem and one that afflicts millions of Americans. Luckily there is hope when you turn to our Marietta, GA, dentist Dr. James Hutson for restorative care. We are pleased to offer dental implants to our patients missing one, several, or all of their teeth. This metal restoration is surgically placed into the jawbone where it will take the place of your missing tooth roots. Here are some of the benefits you'll enjoy when you choose to get dental implants:
The Next Best Thing
While no restoration is as good as maintaining your own natural teeth, when this is no longer an option, our patients can rest assured that dental implants are the next best thing. This is because implants truly function just like real teeth. They are even made from a biocompatible metal, which then fuses together with the bone and tissue in the mouth to become one. No other restoration functions as closely to a real tooth as implants.
A Long-Lasting Restoration
While most dental restorations will need to be replaced or repaired every few years, what makes dental implants different is that rarely will the implant ever need to be replaced. Plus, since it's made from a durable metal like titanium it is designed to last several decades. This means that with the proper oral care, your implant could last the rest of your life. Of course, the dental crown placed over the implant will need to be replaced every few years, depending on how well you care for it.
Fully Restore Chewing
Whether you are missing one or many of your permanent teeth, we understand how difficult it can be to enjoy some of your favorite foods and chew food thoroughly enough. Not only does this mean avoiding certain foods that you might love, but also that you may be less likely to get the nutrients your body needs to stay healthy. Furthermore, difficulty chewing often leads to issues with digestion. By restoring your smile with dental implants, you will get a restoration that will stay in place and make chewing a whole lot easier again. Don't just dream about that steak; enjoy it!
Are you interested in finding out whether dental implants are the ideal way to replace your missing teeth? If so, call our Marietta dental office today at (770) 424-7525 to schedule a consultation with us.
By James Hutson, DDS, PC
September 07, 2018
Find out what kind of dentures could help treat your tooth loss and restore your smile.
You are dealing with tooth loss and you believe that dentures are the best oral prosthetic to replace those missing teeth. Perhaps you've done plenty of online research and you've weighed the pros and cons of getting dentures, a dental bridge or dental implants, and decided that dentures may align best with your needs and current health status. Now is the time to turn to our Marietta, GA, cosmetic dentist Dr. James Hutson, for a consultation to find out more about dentures and whether they are right for you.
What are dentures?
Okay, so we know that most people understand what dentures are. After all, these oral prosthetic devices have been around for centuries. Of course, modern-day dentures offer a better fit and feel than they once did, making them more comfortable and easier to wear than ever before. Dentures consist of a pink plastic base with false teeth. The pink base is created to resemble gum tissue and may either be held in place through suction or with metal clasps.
What are the different types of dentures?
It's now important to understand that there are several different types of dentures from which to choose in Marietta, GA, and understanding them better will help you decide the best option for you:
Full Dentures
This is your best option if you are missing all of your teeth on the upper or lower jaw or both. Full dentures can last anywhere from five to 10 years with the proper care and maintenance and are the best option for someone dealing with total tooth loss.
Partial Dentures
If you are missing some teeth but still have some healthy natural teeth remaining then getting partial dentures will be the best option. Placing these dentures will help prevent the rest of your teeth from shifting into the open gap.
Fixed Dentures
When we think of dentures we often think about having to take them out each and every night. While this is the norm, there are some situations where the dentures will be fixed in place. One example is a fixed dental bridge, in which dental crowns are cemented to natural teeth on either side of the gap to support a false tooth in the middle.
Dental implants can also be surgically placed within the jawbone to support and hold dentures in place. Of course, with implant-supported dentures, you will still need to take your dentures out every night before bedtime.
Are you dealing with tooth loss in Marietta, GA, and interested in finding out whether dentures are the best approach for restoring your smile? If so, you've come to the right place. Dr. James Hutson and staff pride themselves on providing the very best in cosmetic and restorative dentistry. Schedule a consultation with us today.
By James Hutson, DDS, PC
September 08, 2016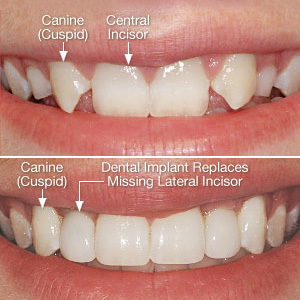 When you look at the top row of a normal smile, you'll see symmetrical pairs: the central incisors in the middle, flanked by the lateral incisors and the canine (or eye) teeth on the outside of them.
Sometimes, though, teeth may not form as they should: in fact, it's one of the more common congenital defects with one in five people having missing or deformed teeth, often the upper lateral incisors. In the latter case, it's not uncommon for the eye teeth to drift into the missing lateral incisors' spaces next to the central incisors. This creates a smile even a layperson can tell is off.
There is a way to treat this with orthodontics and cosmetic dentistry that will transform that person's smile while restoring better mouth function too. It's often a long process, however, that's best begun early and must be precisely timed with dental development.
Using braces, we move the drifted teeth back to their proper positions, which will make room for a future dental restoration. It's usually best to begin this treatment during late childhood or early adolescence. The next step is to fill the newly-created space with prosthetic (false) teeth.
Dental implants are an ideal choice since they're durable and life-like, and won't require permanent alteration of adjacent teeth. They do, however, require a certain amount of bone volume at the site to support them; if the volume is insufficient we may have to place a bone graft to stimulate new growth.
It's also best not to install implants until the jaw has finished development, usually in the late teens or early adulthood. In the interim between tooth repositioning and implants we can customize a retainer or other removable appliance with a false tooth to occupy the space. This not only enhances the smile, it also prevents the repositioned teeth from drifting back.
These steps toward achieving a new smile take time and sometimes a team of specialists. But all the effort will be rewarded, as a person born without teeth can have a new smile and improved oral health.
If you would like more information on treating dental development deficiencies, please contact us or schedule an appointment for a consultation. You can also learn more about this topic by reading the Dear Doctor magazine article "When Permanent Teeth Don't Grow."