Posts for tag: jaw pain
By James Hutson, DDS, PC
September 15, 2019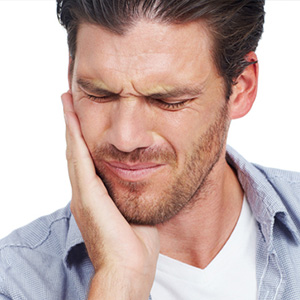 Chronic pain affects the quality of life for an estimated 50 million adults in the U.S. alone. The American Chronic Pain Association designates September as "Pain Awareness Month" to highlight the many conditions that cause chronic pain and strategies to manage them. Among these are conditions that can involve your oral or facial health. Here are two painful mouth and face disorders and what you can do about them.
Temporomandibular Joint Disorder (TMD). TMD is a common condition often seen in the dental office. The temporomandibular joints connect the lower jaw to the skull and facilitate activities like eating or speaking that require jaw movement. If they and their associated muscles become inflamed, this can trigger debilitating chronic pain. If you suffer from TMD symptoms, make sure we know about it so we can make your dental visits as comfortable as possible.
When possible, avoid irreversible and invasive treatments for TMD that may permanently change your bite, such as surgery or having teeth ground down. Instead, most healthcare professionals recommend a more conservative approach. Try the following tips to alleviate TMD pain:
Eat soft foods so you do not aggravate the jaw joint.
Avoid extreme jaw movements like suddenly opening your mouth very wide.
Use ice packs and moist heat to relieve discomfort.
Ask us about jaw exercises to stretch and relax the jaw.
Practice stress-reduction techniques, such as meditation, yoga, tai chi or taking short walks to clear your mind.
Burning Mouth Syndrome. The sensation that the mouth has been burned or scalded without an obvious cause is most common among women during menopause. While researchers can't yet pinpoint clear causes for it, the list of suspects includes hormonal changes, neurological or rare autoimmune disorders or medication-induced dry mouth.
The first step to treatment is an oral exam along with a complete medical history to identify any possible contributing factors. Depending on the results, we can offer recommendations to manage your symptoms. The following tips often help:
Keep your mouth moist. We can recommend an artificial saliva product or medication to increase saliva flow if needed.
Change your toothpaste if it contains irritating ingredients.
Identify and avoid foods and beverages that seem to precede an episode. These may include spicy foods, coffee and alcoholic beverages.
Quit smoking, as this is often linked to burning mouth episodes.
The pain and discomfort caused by these and other oral conditions can put a dent in your life. A visit to your dentist, though, could be the first step to finding relief.
If you would like more information about oral conditions that produce chronic pain, please contact us or schedule a consultation. To learn more, read the Dear Doctor magazine articles "Seeking Relief From TMD" and "Burning Mouth Syndrome."
By James Hutson, DDS, PC
July 23, 2018
If you are experiencing chronic jaw pain, stiffness, and other symptoms like cracking or "popping" when you open and close your mouth,
you may be suffering from temporomandibular disorder, commonly referred to as TMJ. TMJ (also known as TMD) is a common problem that affects as many as ten million Americans. Dr. James Hutson, a dentist in Marietta, GA, offers a range of treatment options designed to address the underlying cause of your jaw pain and discomfort.
TMJ Diagnosis and Treatment in Marietta, GA
TMJ symptoms can range from mild to severe. Because ongoing jaw pain can affect everything from your ability to eat to your general wellbeing and quality of life, you should see a dentist for treatment options and prevent the risk of permanent damage to the joints. Although an exact cause of TMJ can be difficult to pinpoint, there are a few factors that can contribute to joint damage and jaw pain:
An injury or trauma
Arthritis
Bite and alignment issues
Prolonged clenching or teeth grinding
Treatment for TMJ depends on the underlying cause and the severity of your symptoms. Most cases are treated with conservative options like medication and lifestyle modifications, but surgery may also be an option if conservative treatments are ineffective. If your jaw pain is caused by a bite or alignment problem that is causing pressure and strain on one or both joints, the dentist might recommend appliance therapy or orthodontics.
Other treatment options for jaw pain and TMJ related symptoms include:
Physical therapy
Jaw exercises
Dietary changes
Nightguard/retainer (for teeth grinding)
Ice or heat therapy
Cortisone injections
Dietary changes
Restorative dentistry procedures like crowns and bridgework
Find a Dentist in Marietta, GA
For more information about TMJ treatment, contact our office today by calling (770) 424-7525 to schedule an appointment with Dr. Hutson.
By James Hutson, DDS, PC
June 27, 2017
Jaw pain when you're eating or talking is not normal. A clicking sound in the jaw is not normal either. Both are signs that there is a
potential oral health problem that needs to be treated by a dentist. In many cases, the problem is TMJ (short for Temporomandibular disorder). Find out the various potential causes of your pain, including TMJ, and how it can be treated by Dr. James Hutson at his Marietta, GA, dental office.

The Discomfort of Jaw Pain
Jaw pain is disruptive to your everyday routine because it makes it difficult to eat and talk. Some tougher foods like steak may be impossible to chew for proper digestion when there's too much pain in the jaw. It's also hard to focus on your work or a conversation with someone if you're constantly thinking about the clicking sound coming from the side of your face (common with TMJ disorders).

Probable Causes of Jaw Pain
One National Health Interview Survey found that about 3.5 percent of men and 6.9 percent of women in the United States report pain in the jaw. There are several reasons why you may be experiencing jaw pain:

- TMJ disorder (an inflammation of the hinge that connects the upper and lower jaw)
- Poor bite positioning
- Tooth clenching and grinding
- Yelling and screaming for long periods of time, such as at a ballgame
- Fibromyalgia (a painful, nerve-related problem)

Jaw Pain Solutions
There is likely a dental solution for many of the causes of jaw pain. Here are common treatments offered at Dr. Hutson's Marietta dentist office:

- Orthodontics if the problem is bite-related
- A crown or bridge restoration if a damaged or missing tooth is the problem
- Mouth guards to stop grinding and clenching when sleeping
- Non-steroidal anti-inflammatory medication to ease inflammation and pain
- Stretching exercises and ice or heat therapy

Get Jaw Pain Help
If you're feeling jaw pain often, don't let too much more time pass before you see Dr. Hutson at his Marietta, GA, dentist office. Call (770) 424-7525 today to schedule a TMJ jaw examination.