Posts for tag: Dentures
By James Hutson, DDS, PC
June 17, 2016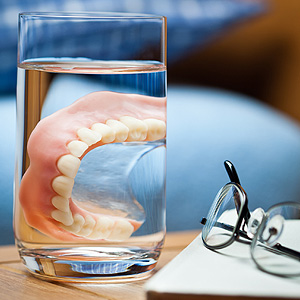 People who've lost all their teeth have benefitted from a solution that's been around for generations: removable dentures. These appliances have helped millions of people chew and eat food, speak, and smile confidently.
But for all their benefits (including affordability) there's still some things you need to do to get the most out of them like cleaning them daily or having us check them regularly for damage and wear. And, there's one thing you shouldn't do: wear them around the clock. Not removing them when you sleep at night can harm your oral health and reduce your dentures' longevity.
Dentures are fitted to rest on the gums and the bony ridges that once held your natural teeth. This exerts pressure on the underlying bone that can cause it to gradually dissolve (resorb). This loss in bone volume eventually loosens your denture's fit. If you're wearing them all the time, the process progresses faster than if you took them out each night.
The under surfaces of dentures are also a prime breeding ground for bacteria and fungi. Besides unpleasant odors and irritation, these microorganisms are also the primary cause for dental disease. Research has found that people who sleep in their dentures have higher occurrences of plaque, a thin film of bacteria and food remnants that cause periodontal (gum) disease. They're also more prone to higher levels of yeast and the protein interleukin-6 in the blood, which can trigger inflammation elsewhere in the body.
To avoid these and other unpleasant outcomes, you should develop a few important habits: remove and rinse your dentures after eating; brush them at least once a day with dish or anti-bacterial soap or a denture cleanser (not toothpaste, which can be too abrasive); and take them out when you sleep and place them in water or an alkaline peroxide-based solution.
Be sure you also brush your gums and tongue with an extra soft toothbrush (not your denture brush) or wipe them with a clean, damp washcloth. This will help reduce the level of bacteria in the mouth.
Taking these steps, especially removing dentures while you sleep, will greatly enhance your well-being. Your dentures will last longer and your mouth will be healthier.
If you would like more information on denture care and maintenance, please contact us or schedule an appointment for a consultation.
By James Hutson, DDS, PC
November 11, 2015
Enjoy all the advantages that getting dentures can offer you and your oral health.
No one wants to deal with tooth loss but there are many dental issues that can destroy smiles. Fortunately, your Marietta, GA dentist Dr.
James Hutson has options for giving you back that beautiful smile. Find out how dentures can improve your oral health and get your smile back.
How can I benefit from dentures?
It might seem like a silly question, but it's important to know just how advantageous it can be to get dentures. Anyone who is dealing with severe or total tooth loss knows the value of having all of your teeth. Here are some of the smile benefits you can reap when you decide to get dentures in Marietta:
Find speaking easier again
With tooth loss it's both difficult to feel confident speaking to those around you and difficult to speak properly. But through dentures you can get a full smile and find that speech is restored. Sure, it may take a few weeks to get used to your new teeth, but you'll find over time that dentures make it easier to communicate with those you love.
Rediscover your favorite foods
You may have found yourself straying from eating dinner out with friends or enjoying your favorite meals simply because it's more difficult to eat foods without all your teeth. But just as dentures can restore your speech they can also make chewing easier. With your dentures, find renewed confidence in ordering all your favorite foods the next time you go out.
Improve your self-esteem
An imperfect smile can certainly make you feel less than confident about your appearance. After all, a smile is often one of the first things people notice. Imagine the boost to your self-esteem that having a full smile will afford you.
Promote a healthier smile
Tooth loss also poses other issues for your smile including an altered facial structure. Wearing dentures can help your cheeks maintain their fullness.
If you are ready to say goodbye to tooth loss for good, then it's time to schedule a consultation with your dentist in Marietta. Call our office today and let us know you are interested in getting dentures.
By James Hutson, DDS, PC
August 27, 2015
Dentures are a popular solution for patients who have missing teeth. Though they have cosmetic benefits, dentures are also necessary for good oral function, including eating and pronouncing your words clearly. Dr. James Hutson offers a variety of denture solutions at his cosmetic dentistry in Marietta, GA. Learn about the different types of dentures available so that you and Dr. Hutson can decide which
solution is right for you.

Full Conventional Dentures
Patients who have lost all of their natural teeth, usually due to dental disease or aging, are candidates for full conventional dentures. These are dentures that are created to fit over the entire gumline to act as replacement teeth. A dental lab technician uses impressions from your mouth to form a base for the dentures that will fit your mouth comfortably. They may have to be sent back for a few adjustments before your appliance is ready for wearing. You can remove them when needed for cleaning.

Partial Dentures
Partials are dentures that are designed to replace just a few teeth instead of an entire row. They are placed over the gumline or connected by metal clasps to your remaining teeth. When you go to Dr. Hutson's Marietta GA cosmetic dentistry for partials, you will have a thorough dental examination to ensure the ongoing health of your teeth so that they can continue to support the denture appliance.

Implant Supported Dentures
Patients who have a row of missing teeth may also be eligible for implant supported dentures. Two or more dental implants are surgically inserted into healthy bone, then a custom denture appliance is placed on top. This gives you a more secure and permanent denture that will last you for many years with good care.

Getting Dentures
Talk to Dr. Hutson about the various denture solutions available. He is a member of a number of trusted dental organizations, including the American Dental Association and the Georgia Dental Association, who is committed to providing his patients with reliable dental care. Call his Marietta GA cosmetic dentistry office at (770) 424-7525 today for an appointment.