Posts for: May, 2015
By James Hutson, DDS, PC
May 29, 2015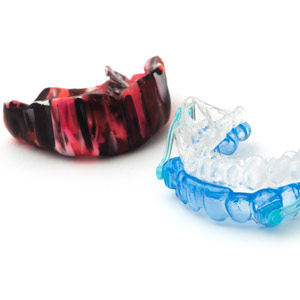 When he isn't among the ten players vying for position on the basketball court, Cole Aldrich of the New York Knicks sometimes lets his dangle behind one ear. Mason Plumlee, who plays for the Brooklyn Nets, slips his snugly inside one of his socks during off times. Other players can be seen at timeouts gnawing on them nervously, or tucking them into spandex waistbands. But when the whistle blows, they go into the mouth before the players get on the court.
We're talking about protective mouthguards, of course. According to a recent story in the New York Times, only a handful of basketball players wore them regularly a few years ago. Today, more and more are wearing them, both in practice and during games. What's the reason for the change?
Partly, it's the result of better design and improved construction; today's mouthguards are more comfortable and better-fitting than ever. Part of it comes from mounting evidence that they work: Research studies have consistently demonstrated the benefits of wearing a mouthguard — not only to protect the teeth, but also to reduce the risk of concussion. And partly, it stems from the growing acceptance that safety is an important aspect of all athletic activity.
If the pros are doing it — shouldn't you be too? While you may think that only contact sports (such as football) are risky, the fact is that "non-contact" sports like baseball and basketball account for the majority of dental injuries. In fact, the American Dental Association recommends you wear a mouthguard when you participate in activities like handball, soccer, surfing and weight lifting — as well as boxing, skydiving, martial arts and "extreme sports" — whatever that may mean to you.
What's the best kind of mouthguard? It's the one that you actually wear, of course! And the most comfortable and best-fitting mouthguard is the one that's custom-made for you by your dentist. Sure, you can pick up an off-the-shelf mouthguard at a big box store; but it can't offer you the same level of protection and comfort you'll get from a mouthguard that is made from a model of your own teeth. Custom-made mouthguards from your dentist are reasonably priced — and by preventing dental trauma, they can save an untold amount of hurt… both to your body and to your pocketbook.
So take a tip from the pros: Get a custom-made mouthguard, and wear it every time you play. But when you're done playing… how about putting it away in a case?
If you would like more information about custom-made athletic mouthguards, please contact us or schedule an appointment for a consultation. You can learn more by reading the Dear Doctor magazine articles "An Introduction to Sports Injuries & Dentistry" and "Athletic Mouthguards."
By James Hutson, DDS, PC
May 08, 2015
It might seem that adults who play aggressive, high-contact professional sports (ice hockey, for example) have the highest chance of sustaining dental injuries. But for many — like NHL hall-of-famer Mike Bossy — their first injured teeth came long before they hit the big time.
"The earliest [dental injury] I remember is when I was around 12," the former New York Islanders forward recently told an interviewer with the Huffington Post. That came from a stick to Bossy's mouth, and resulted in a chipped front tooth. "Unfortunately, money was not abundant back in those days, and I believe I finally had it repaired when I was 16." he said.
You may also think there's a greater chance of sustaining dental trauma from "collision sports" like football and hockey — but statistics tell a different story. In fact, according to the Academy of General Dentistry (AGD), you (or your children) are more likely to have teeth damaged while playing soccer than football — and basketball players have a risk that's 15 times higher than football players.
So — whether the game is hockey, basketball or something else — should you let the chance of dental injury stop you or your children from playing the sports they love? We think not... but you should be aware of the things you can do to prevent injury, and the treatment options that are available if it happens.
Probably the single most effective means of preventing sports-related dental injuries is to get a good, custom-made mouth guard — and wear it. The AGD says mouthguards prevent some 200,000 such injuries every year. And the American Dental Association says that athletes who don't wear mouthguards are 60 times more likely to sustain harm to the teeth than those who do.
Many studies have shown that having a custom-fitted mouthguard prepared in a dental office offers far greater protection then an off-the-shelf "small-medium-large" type, or even the so-called "boil and bite" variety. Using an exact model of your teeth, we can fabricate a mouthguard just for you, made of the highest-quality material. We will ensure that it fits correctly and feels comfortable in your mouth — because if you don't wear it, it can't help!
But even if you do have an injury, don't panic: Modern dentistry offers plenty of ways to repair it! The most common sports-related dental injuries typically involve chipped or cracked teeth. In many cases, these can be repaired by bonding with tooth-colored composite resins. For mild to moderate injury, this method of restoration can produce a restoration that's practically invisible. It's also a relatively uncomplicated and inexpensive procedure, which makes it ideal for growing kids, who may elect to have a more permanent restoration done later.
If you have questions about mouthguards or sports-related dental injuries, please contact us or schedule an appointment for a consultation. You can learn more in the Dear Doctor magazine articles "Athletic Mouthguards," and "An Introduction to Sports Injuries & Dentistry."